Our Year in Review
Harness Was There
2021 was the year of opportunity. Harness pivoted our approach from years of reacting to affronting policies and harmful cultural climates, to dreaming up and pursuing inspiring, joyful, and human-centered solutions to systemic imbalances. We collaborated with our community of cultural organizers to proactively advance gender justice, civic justice, and racial justice in new and innovative ways.
This year brought unique challenges, and we also witnessed community wins – many, years in the making. Throughout all of these moments Harness was there to gather, activate and amplify our community. I'm proud to share a highlight of our work in 2021 in the following year in review.
We piloted new strategies for change while continuing to build a strong cross-sector network of artists, activists, industry leaders and strategists through initiatives like the Gender Justice Entertainment Hub, Culture Surge, and Protect The Sacred. We believe an intersectional movement is needed for impactful and revolutionary culture change.
This was also a year of tremendous organizational growth as our founding executive director, Marya Bangee, transitioned out of her role. I'm so grateful to Marya for her years of leadership, and to the Harness staff and Board who stepped up to fill those large shoes. Together we are leading Harness forward with a clear and ambitious vision for the future. Next year we look forward to completing our executive director search and transitioning into an independent 501(c)(3) organization.
Thank you to our community who work tirelessly to imagine and create a more equitable world. Thank you to our funders for investing in Harness to do the work that we love. Thank you to our staff, board, and extended team for the passion, talent, and heart that you bring to your work every day.
I am honored to be in community with all of you.
Onward,
Miriam Fogelson
Acting Director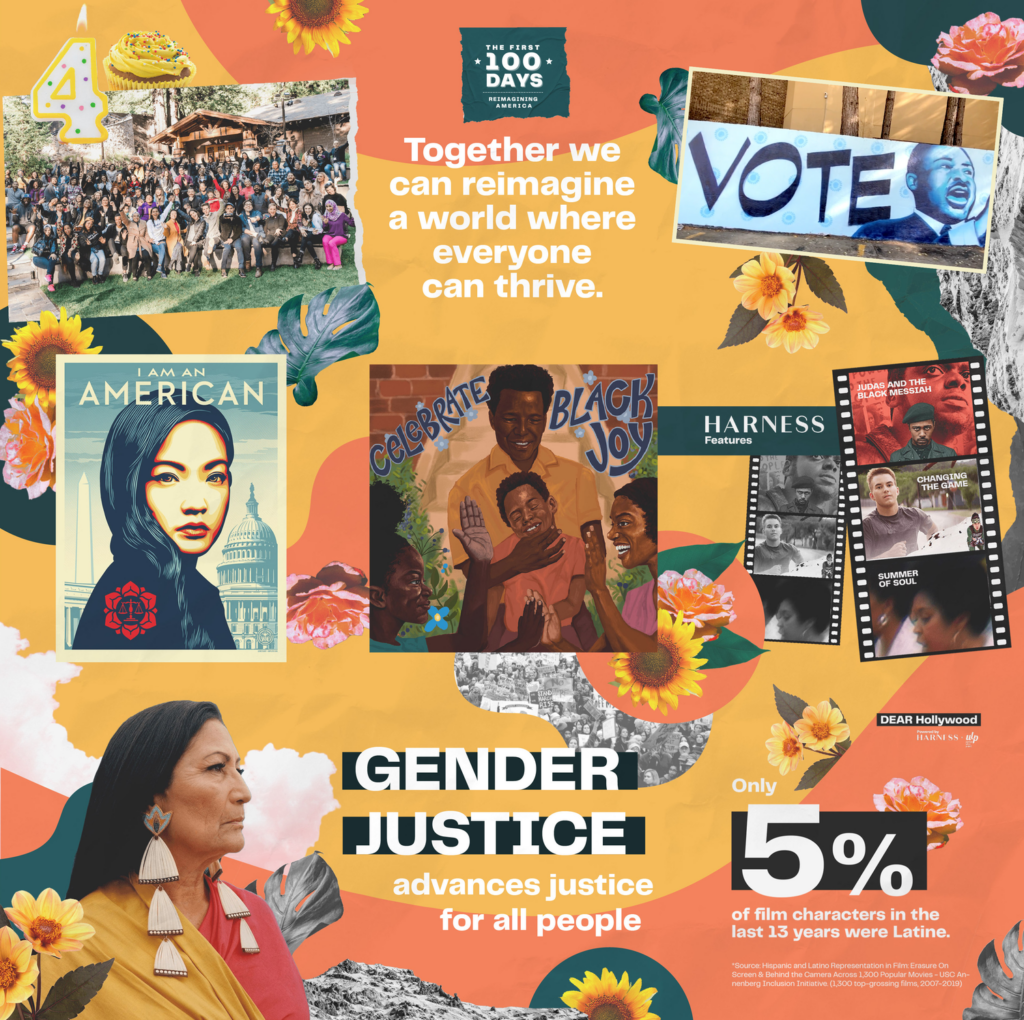 Harness Turns 4!
The community shares their vision for the Biden administration.
To launch our Year of Opportunity, Harness co-founders America Ferrera, Ryan Piers Williams, and Wilmer Valderrama convened the Harness community for a four year anniversary celebration and a collective visioning for the first 100 days of a new administration. Community member beau sia led our community in a creative visioning exercise. National electoral expert Marc Elias and movement leader Nelini Stamp led a conversation on how to advocate for our community concerns, and community members shared their visions for a future where everyone can thrive in our content series: The First 100 Days: Reimagining America.
---
U.S. Senate Runoff Elections
Turning Out the Vote
In January 2021, Harness contributed to voter turnout in Georgia for the U.S. Senate runoff elections through our partnership with Culture Surge. The coalition commissioned 20 street art activations and Tik-Tok micro influencer campaigns targeted at new Gen Z voters. Over 1.3 million people saw our commissions online and in-person. We co-hosted a celebration with Alicia Keys for on-the-ground organizers engaged in these efforts.
---
Harness Features Build Community Through Film
We piloted inspiring and educational programs to deepen our Community's engagement with gender justice, racial justice, and civic justice.
We launched the Harness Features program to provide first-looks access to films with socially conscious themes and conversations with leading creatives and activists. The inaugural virtual screening featured Judas and the Black Messiah, and we were joined in conversation with Chairman Fred Hampton Jr. (The Black Panther Party Cubs), Shaka King (Director, Judas and the Black Messiah) and Alicia Garza (Black Futures Lab, Black Lives Matter).
We featured Changing the Game during Pride month to spotlight trans-exclusionary legislation sweeping the country. The virtual conversation featured Chris Mosier (Executive Producer, Changing the Game), Alex Schmider (GLAAD), Andraya Yearwood (student athlete, activist), Schuyler Bailar (former NCAA Division 1 athlete, author), and D'Lo (artist) and focused on storytelling and narratives that are often missing when discussing trans issues: joy, resilience, and the power of allyship.
In August, as COVID-restrictions lessened, we held an in-person screening of the Grammy Award-nominated Summer of Soul for BIPOC youth organizers and artists. We were honored to be joined by Jaia Thomas (Founder, Diverse Representation; Attorney), Joseph Patel (Producer, Summer of Soul), Lexi Underwood (artist) for a conversation before the film.
---
Political Education 101
We piloted an intimate, and exclusive political education series for key influential artist partners to provide the education and community to be more impactful leaders for social change. The series educates a cohort of artists on a community concern and its history and will drive them to action. Artists will deepen their understanding of their role as cultural organizers in advocacy movements, whether they are members of an impacted community or an ally. The pilot program focuses on Native history and current concerns and our educators included Vance Blackfox, an Indigenous Theologian and citizen of the Cherokee Nation, and the founder and director of Other+Wise.
---
Gender Justice Entertainment Hub
Launched in January 2021, the Gender Justice Entertainment Hub, advances justice for women and gender expansive people by cultivating relationships and collaborative projects between entertainment industry and gender justice movement leaders that lead to new narratives in popular culture, improved corporate practices, and cross-sector partnerships that uproot systemic gender bias. The Hub's monthly virtual gatherings continued throughout the year to ideate and mobilize these networks to action.
The Hub, a program powered by Harness, was founded and led by Sarah Sophie Flicker, Shruti Ganguly, and Tanya Selvaratnam. Over the past year, the Hub has grown to a community of over 70 diverse, cross-sector thought-leaders representing organizations and companies like A Call to Men, JusticeRx, ABC News, The Walt Disney Studios, Producers Guild of America, Sundance Institute and more.
---
AAPI and Sikh Visibility
Racially Driven Attacks on the AAPI and Sikh Community Sweep the Country
Throughout the year, racially motivated hate crimes against members of the AAPI and Sikh community rose across the nation. In the spring, we led a duo of virtual racial justice Salons in partnership with RUN AAPI, Amplifier, Amanda Nguyen (RISE), Omsom, Nguyen Coffee Supply featuring speakers such as America Ferrera, Sherry Cola, Linh Nguyen, Chloe Bennet, Valarie Kaur, and a performance by MILCK to foster healing, learning, and multi-racial solidarity and action. We amplified the AAPI Visibility Pledge and secured signatures from several high-profile artists. The Salons were attended by over 150 people. Harness also advised the May 19th project, led by Jeff Chang – an intergenerational project to encourage Asian and Black solidarity.
---
Voter Suppression Laws Sweep the Nation
Rick Santorum Disparages Native History
In an effort to suppress the vote of Native and BIPOC communities, Republican-controlled state houses and municipalities began considering and passing restrictive voting laws. Allie Young, Harness Program Manager and founder of Protect the Sacred (PTS), a Harness program, raised awareness about the impact of disenfranchisement efforts on Native communities through a robust media strategy and by convening and meeting with influential leaders. At an intimate meeting between the Vice President and Tribal leaders and allies, Allie helped secure a commitment from the Biden/Harris administration to use every tool at their disposal to protect the sacred right to vote. The Vice President also acknowledged the civic engagement efforts of PTS at the inaugural Tribal Nations Summit.
In partnership with IllumiNative and other Indigenous organizations, we successfully pressured CNN to remove Rick Santorum as a guest commentator for his racist comments against Native people on air.
New anti-voter laws will make it more difficult for Native Americans to vote. @SecDebHaaland and I met with Tribal leaders and Native advocates to discuss obstacles to the ballot box—and what we can do to ensure all Americans can exercise their right to vote. pic.twitter.com/Yo6Cah0eMJ

— Vice President Kamala Harris (@VP) July 28, 2021
---
Honor Their Lives
Commemorating One-Year Anniversary of 2020 Racial Justice Uprisings
In May, we commemorated the life of George Floyd and the subsequent racial justice uprisings by partnering with Black Futures Lab, Black Visions Collective, and Color of Change to host a Salon acknowledging the Black lives lost to police violence and strategizing about how to continue the fight for Black liberation. We were honored to feature speakers such as Wilmer Valderrama (Harness co-Founder), Brittany Packnett Cunningham, Megalyn Echikunwoke, Maurice Mitchell, Miski Noor, and Rev. Jennifer Bailey. Calls to action included sharing artwork that we commissioned with Color of Change for the #RacialJusticeToday Week of Action.
---
Vaccine education
COVID-19 Vaccinations Become Increasingly Available to All Americans
After one year of COVID-19 lockdowns, heightened regulations, and fear that pervaded our communities, COVID-19 vaccinations became available to the majority of Americans in summer 2021.
Poderistas, having successfully rebranded from She Se Puede, received over 10 million media impressions for the Your Actions Save Lives vaccinations campaign in partnership with the state of California. During Mental Health Awareness Month, Poderistas launched the first ever virtual summit focused on Latina mental health – "Salud y Poder (the mental) State of Latinas Today."
Protect the Sacred hosted the Tribal Voices from the Pandemic Town Hall, featuring Taboo, which was viewed by over 8,000 people and addressed the impact of the pandemic on Native communities, celebrated their resilience, and advocated that viewers get vaccinated.
---
Staff Retreat
The Harness staff – all vaccinated – safely reunited in LA for the first time for a strategic planning retreat!
---
Protecting Abortion Access
Texas Restricts Abortion Access and Roe v. Wade is Threatened
In anticipation of restrictive abortion laws making their way through the Supreme Court, we convened the Harness artist community for an educational Salon hosted by Busy Phillips about protecting abortion rights. We were joined by reproductive justice organizers and advocates Aimee Arrambide (Avow Texas), Monica Simpson (SisterSong), Sarah Sophie Flicker (Rally for Reproductive Justice) and Tohan O. (Storyteller at We Testify). Their storytelling covered the intersectionality that tends to be missing in conversations about reproductive justice. We sent over 500 artists of influence social media messaging and assets to promote the Rally for Reproductive Justice, which was held in over 530 locations nationwide on October 2.
---
Developing BIPOC Leadership
Protect the Sacred hosted The Native Youth Summit – a virtual gathering of 180 Native youth from across the country, which created educational and creative opportunities for Native American youth by providing them with the tools, resources, and access to empower them as leaders in the arts and social justice spaces. Vice President Kamala Harris opened the summit with a very special message for our Native youth to encourage being civically engaged. We were joined by prominent Native American artists in film, TV, music, fashion, new/social media, and journalism, as well as prominent organizers and youth leaders, and influencer allies such as Mark Ruffalo and Marisa Tomei.
Poderistas held the 2nd annual Latinas Make A Difference Summit. The 30 day free virtual event brought together almost 4,000 registrants with over 40 leading Latinas from all walks of life including: Eva Longoria, America Ferrera, Robin Arzón, Soledad O'Brien, Ana Navarro, and Alexis McGill Johnson to spotlight wellness, health, entrepreneurship, and movement building for civic engagement.
---
DEAR Hollywood Launches
Increasing Representation and Inclusion of Latine Communities
Throughout Hispanic Heritage Month 2021, various research institutions released dismal reports on the state of Latinx talent in front of and behind the cameras in film and television. DEAR Hollywood (Demanding Equal Access and Representation in Hollywood) co-produced by Harness and the Untitled Latinx Project (ULP) launched to counter this trend and advance Latinx equity and inclusion in Hollywood. DEAR Hollywood will make Latinx inclusion an industry standard by securing strategic and data-based commitments from leaders in television, broadcast, cable, and streaming platforms.
As industry partners increasingly distribute and celebrate diverse content, Harness has worked in partnership with a handful of studios throughout the years to advise on strategic release strategies for the communities represented in these productions. This year, we partnered with Netflix to engage our shared communities in the launches of Gentefied Season 2 (created by Harness community members Linda Yvette Chávez and Marvin Lemus; executive producer America Ferrera) and Maya and the Three.
We were proud to help produce Gentefied Night at BLVD MRKT – an artisan food hall in Montebello that promotes community and economic development through entrepreneurship. Additionally, we partnered with Meztli Projects to help build the Maya and the Three Warrior Princess list – young girls who like Maya lift their communities and share their culture with pride.
---
Thank You
To our 2021 Institutional Funders
4KINSHIP
The California Endowment
Color of Change
Compton Foundation
Decolonizing Wealth Project
Ford Foundation
Global Citizen
Grantmakers for Girls of Color
Groundswell Fund
The Heartsprung Fund
Hearthland Foundation
IllumiNative
The Kresge Foundation
New Songs Rising Initiative
Pop Culture Collaborative
Rauschenberg Foundation
Rob Katz & Elana Amsterdam Foundation
The Skatepark Project
Women's Foundation of California/
The Culture Change Fund