Who We Are
America Ferrera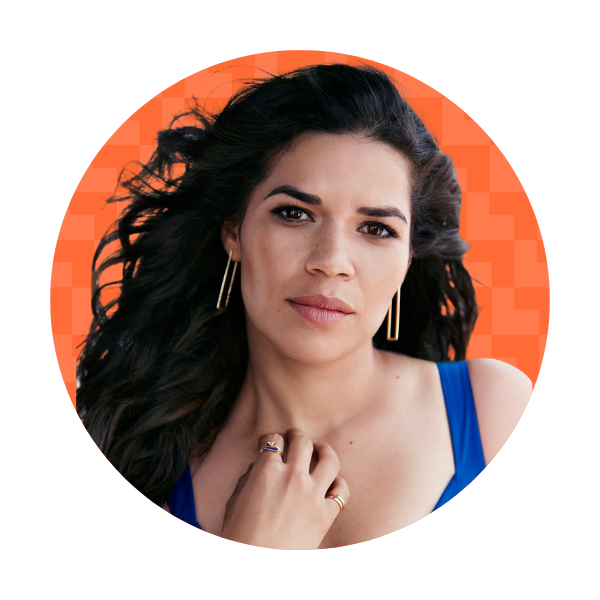 Artist, Harness Co-Founder
America Ferrera is an award-winning actor, director and producer known for her breakthrough role as "Betty Suarez" on ABC's hit comedy, Ugly Betty. For her performance, Ferrera was awarded a Golden Globe®, an Emmy®, and a Screen Actors Guild Award®, as well as ALMA and Imagen Awards. 
Most recently, Ferrera executive produced and directed episodes of Netflix's hit Latinx series, Gentefied. Gentefied follows three Mexican American cousins and their struggle to chase the American Dream. Season 2 is now streaming. Ferrera also recently wrapped production on the Apple series, WeCrashed, which tells the story of the rise and fall of WeWork. She will play the role of Elishia Kennedy, a brilliant young entrepreneur seduced into joining WeWork, whose life is turned upside down as a result.
Ferrera also executive produced, directed and starred in NBC's beloved workplace comedy, Superstore, which recently ended its six season run. She will make her upcoming feature directorial debut with an adaptation of Erika Sánchez's New York Times bestselling novel, I Am Not Your Perfect Mexican Daughter, for Netflix.
In November 2021, Ferrera was announced as the new face of CoverGirl. She will appear in an upcoming campaign for a new collection.
In July of 2020, Ferrera was announced as a Founding Investor of Angel City Football Club, a planned National Women's Soccer League expansion team that is expected to begin play in 2022. The team will be based in Los Angeles, California.
A longtime activist, Ferrera recently launched Poderistas alongside Eva Longoria Bastón and other Latina Leaders. Poderistas is a digital lifestyle community and non-profit built to inspire, affirm, and inform Latinas so they can leverage their power to transform their lives, their families, their community and their nation. Ferrera is also a prolific speaker having spoken at major events such as Women's March, the DNC, March for Our Lives, etc. She was also a chair for the Artists' Committee for the Women's March on Washington. Her activism has even extended on screen in several television documentaries including Not Done: Women Remaking America for PBS, the EPIX TV mini-series, America Divided, Showtime's groundbreaking documentary, The Years of Living Dangerously, and Nicholas Kristof's series for PBS Half the Sky: Turning Oppression into Opportunity for Women Worldwide.
In 2018, Ferrera released her first book landing on the New York Times best-seller list. American Like Me is a vibrant and varied collection of first-person accounts from prominent figures about the experience of growing up between cultures in America. Curated and edited by Ferrera, the anthology includes essays that share her own perspective of growing up as the daughter of Honduran immigrants in Los Angeles. Contributors to the book include Lin-Manuel Miranda, Roxane Gay, Issa Rae, Kumail Nanjiani, Congressman Joaquin Castro, Kal Penn, Uzo Aduba, Jenny Zhang, Michelle Kwan, Padma Lakshmi and many others.
In 2016, Ferrera co-founded HARNESS, with her husband Ryan Piers Williams and Wilmer Valderrama. HARNESS is a community of artists, influencers and grassroots leaders that provides education and engagement opportunities to amplify the organizations and individuals working on behalf of social justice.
Some of Ferrera's television and film credits include Real Women Have Curves; Sisterhood of the Traveling Pants (parts 1 and 2); Diego Luna's biopic, Cesar Chavez, (ALMA Award Special achievement in Film); Ryan Piers Williams' The Dry Land, (Best International Film Edinburgh Film Festival); Ryan Piers Williams' drama X/Y, which she co-produced and starred in; David Ayer's crime thriller  End of Watch; Ricky Gervais' Special Correspondents; It's a Disaster;  Lords of Dogtown;  How the Garcia Girls Spent Their Summer,  among many others. She lends her vocal talents to the Oscar® nominated franchise films How to Train Your Dragon as Astrid.
On stage, she has appeared off-Broadway in Terrence McNally's Lips Together, Teeth Apart; Laura Marks' Bethany; and Dog Sees God: Confessions of a Teenage Blockhead, directed by Trip Cullman. She graced the stage as Roxie Hart in the West End production of the hit musical, Chicago.
In 2006, Ferrera founded her own television and film production company, Take Fountain. 
Born and raised in Los Angeles, Ferrera is the youngest of six children. As a graduate of the University of Southern California, Ferrera studied International Relations while pursuing her film and television career.