---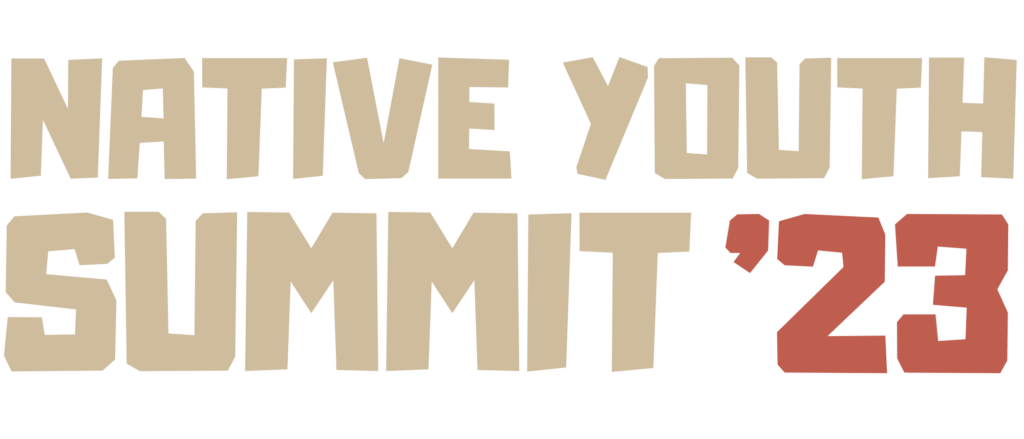 Please join Protect the Sacred for the 3rd Annual Native Youth Summit set to take place at Navajo Preparatory School in Farmington, New Mexico, from August 2-4, 2023. Native youth will have the opportunity to connect with relatives throughout Indian Country, as well as non-Native allies, to unite as we continue to expand horizons for you – our future leaders.

History of the Summit
Our first pilot Native Youth Summit (NYS) was held in September 2021 and convened 180 Native Youth from across the US and Canada. Hosted virtually in accordance with recommended COVID-19 protocols, this summit created educational and creative opportunities for Native youth by providing them with the tools, resources, and access to empower them as leaders in the arts and social justice spaces. Panels on topics ranging from Native youth leadership investment to Two Spirit and gender expansive inclusion, to Environmental Justice and Land Back, featured prominent and up-and-coming Native artists and leaders. For more details on Protect the Sacred's inaugural Native Youth Summit, take a look at the full video on YouTube.

2023 Summit
This August, we will host our third annual Native Youth Summit at Navajo Preparatory School in Farmington, New Mexico, which will mark our first in-person summit. This exciting transition from virtual to in-person will allow for unique opportunities for the 30 Indigenous youth leaders (ranging from 16-27 years old) we will host from Arizona, as well as for Navajo Nation community members who will have an opportunity to be hired for consulting work (i.e., a local event producer, project manager, and event staff) as we look to local experts to plan and execute our visionary summit.
Bringing together an intimate group of youth leaders from this specific region is grounded in our decision to form a community of 30 Indigenous youth leaders who PTS will continue to organize with throughout the 2024 election cycle in order to build power and strategy for Indigenous youth and Native American voting rights in the state of Arizona (with the long-term goal of developing life-long leaders). With this focus in mind, we will build upon our last two summits to amplify and elevate the voices of Indigenous youth around imperative issues that will be impacted by the 2024 election cycle, nurturing and nourishing their resilience, creativity and leadership. Hosting the event in the Navajo Nation will allow us to invite and be in conversation with critical leaders and experts from Arizona – from tribal, state, and federal levels. We will also extend invitations to national leaders in the arts, entertainment, journalism, politics, and social justice spaces, to connect our Indigenous youth cohort with experts who can inspire how they are visioning, thinking, strategizing, and organizing in their communities.

Navajo Preparatory School
Host of 2023 Native Youth Summit
Navajo Prep is located in Farmington, New Mexico on the 82.45 acre site of the former campus of the Navajo Methodist Mission School. The site was purchased by the Navajo Nation in 1995 from the Women's Division of the General Board of Global Ministries of the United Methodist Church (Navajo Nation Council Resolution CJA-02-95). The site is now the permanent home of Navajo Prep under a 99-year lease with the Navajo Nation (RCMA-38-98). The school is incorporated under the Navajo Nation Corporation Code and the New Mexico State Corporation Commission as a non-profit organization under 501(c)(3) of the IRS code.

Frequently asked questions
For Parents
Will my child's travel be paid for?

Yes, we are offering a $500 travel stipend to participants.

Will my child be staying on-site at Navajo Prep?

Yes, all participants will be staying in Navajo Prep's residential student homes and Navajo Prep residential advisors will monitor students in the evenings. Participants will not be allowed to leave the campus once checked-in.
For Participants
Can I apply if I do not live in Arizona?

Yes, however, priority will be given to Arizona residents and neighboring states.

Do I have to stay at Navajo Prep?

Yes, all participants are required to stay on-site at Navajo Prep.

Will Protect the Sacred provide transportation to Navajo Prep?

No, participant's guardian(s) are responsible for drop off (August 2) and pick up (August 4). Youth who have a driver's license and a car are welcome to drive themselves and park in Navajo Prep's overnight parking lot.

When do I have to be at Navajo Prep?

Youth check-in is from 12 – 2 PM Wednesday, August 2.

Will all meals be provided? 

Yes, all meals will be provided by Protect the Sacred using local Native catering.

What do I need to bring/pack?

Find the suggested packing list here.